The Referendum On Separation For Scotland: No Doubt-No Currency Union
HC 499, Third Report of Session 2014-15 - Report, Together with Formal Minutes Relating to the Report
Author:

House of Commons - Scottish Affairs Committee

Publisher:

TSO (The Stationery Office)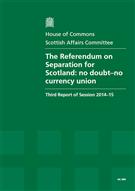 Add to Basket
The report 'The Referendum On Separation For Scotland: No Doubt-No Currency Union (HC 449)' extinguishes the idea of any possibility of a currency union between the United Kingdom and a separate Scotland.
The Committee concludes that no present or future Chancellor or Government could enter into a currency union without totally destroying both their political and economic credibility. Such clarity is necessary not only because a joint currency would be against the best interests of both the continuing United Kingdom and a separate Scotland, but also because the people of Scotland deserve to know, before the referendum, what the true consequence of their vote might be.
A separate Scotland entering into a currency union with the continuing UK would mean the Scottish Government handing over control of its monetary policy, including interest rates, and much of its economic policy to a country in which it had no representation. Similarly, it is difficult to see any benefit to the United Kingdom of accepting the burden of risk of any default by Scottish banks and neither side is likely to accept sharing control of their tax and spending policies with what would, by then, be a foreign government.
The inevitable ending of the currency union in the event of separation would have far reaching consequences throughout Scotland but nowhere more so than for Scotland's financial services industry. The Scottish Government must move quickly to provide information as to how it intends to protect the thousands of jobs dependent upon this vital part of the Scottish economy.
Find similar publications here: