Theft Offences Guideline: Consultation
HC 554, Second Report of Session 2014-15 - Report, Together with Formal Minutes
Author:

House of Commons - Justice Committee

Publisher:

TSO (The Stationery Office)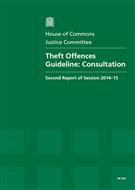 Add to Basket
The Sentencing Council periodically issues draft Sentencing Guidelines for public consultation. Under section 120(6)(c) of the Coroners and Justice Act 2009, the Council is required to consult the House of Commons Justice Committee on draft Guidelines. 'Theft Offences Guideline: Consultation (HC 554)' includes the Justice Committee's response to the draft Theft Offences Guideline, which was issued by the Sentencing Council on 3 April 2014.
The draft guideline is split into separate guidelines for:
(i) Theft from a shop or stall;
(ii) General theft;
(iii) Abstracting electricity;
(iv) Making off without payment;
(v) Handling stolen goods; and
(vi) Going equipped for theft or burglary.
The Committee broadly supports the principles on which the Theft Offences Guideline is based, welcoming in particular the emphasis on placing the impact on victims of theft at the heart of the sentencing process.
The Sentencing Council should encourage sentencers to consider the use of Restorative Justice in the sentencing process in areas where it is available, while emphasising that it must always be victim-led and intended to benefit those who have been the subject of crime rather than the offender.
Find similar publications here: