Royal Mail Privatisation
HC 539, First Report of Session 2014-15 - Volume I: Report, Together with Formal Minutes
Author:

House of Commons - Business, Innovation and Skills Committee

Publisher:

TSO (The Stationery Office)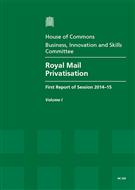 Add to Basket
The report 'Royal Mail Privatisation (HC 539)' examines the performance of the Government in privatising the Royal Mail, and whether the process achieved value for money for the taxpayer.
Aims of floating Royal Mail on the stock exchange were achieved, but the Government's fear of failure and the consequent low issue price of shares means taxpayers look like missing out on significant value. The Shareholder Executive; the Government's financial adviser, Lazard; UBS and the Government's global co-ordinators, Goldman Sachs, failed to gauge demand at higher price levels and didn't give appropriate consideration to maximising value for money for the taxpayer.
The Government may have failed to reap the benefits of the sale of Royal Mail assets included at privatisation. These assets included 3 sites in London valued by the Department for Business, Innovation and Skills at around £200 million but reported by the National Audit Office (NAO) to possess a 'hidden value' worth £330 million to £830 million. Established NAO recommendations that these assets should either be removed from the privatisation process or that claw back provisions be inserted on the future sale of the properties were ignored.
Many of the priority investors bought cheaply and sold quickly at a profit. The current ownership of Royal Mail by long-term investors has little to do with the Secretary of State's actions. The Committee calls on the Government to publish a list of the preferred investors which includes information on which investors sold their shareholding, when, and at what share-price.
The Committee finds that the Government was not well-served by its advisers. While no evidence of inappropriate behaviour was established regarding the external companies advising the Government, the Committee recommends companies advising the Government on share issues should be excluded from becoming a preferred investor.
Find similar publications here: