The Rural Broadband Programme
HC 834, Fiftieth Report of Session 2013-14 - Volume I: Report, Together With Formal Minutes
Author:

House of Commons - Committee of Public Accounts

Publisher:

TSO (The Stationery Office)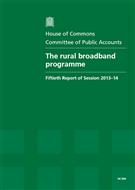 Add to Basket
According to the report 'The Rural Broadband Programme (HC 834)' the Government has failed to deliver meaningful competition in the procurement of its £1.2 billion rural broadband programme, leaving British Telecom (BT) effectively in a monopoly position.
The Department for Culture, Media and Sport (DCMS) has allowed poor cost transparency, and the lack of detailed broadband rollout plans has created conditions whereby alternative suppliers may be crowded out. Whilst BT claims it is making further concessions, this is not impacting on rural communities.
Further problems identified with the Programme include:
Local authorities are still contractually prevented from sharing information to see if they are securing best terms for the public money they spend.

Communities can still not access the detailed data they need to understand whether they will be covered by BT's scheme in their area.

The lack of transparency on costs and BT's insistence on non-disclosure agreements is symptomatic of BT exploiting its monopoly position.
Recommendations of the Committee include:
The DCMS should work with all local authorities to publish detailed mapping of their implementation plans, down to full postcode level; the information should include speed of service, as soon as that is available.
The Department should also collect, analyse and publish data on deployment costs in the current programme, to inform its consideration of bids from suppliers under the next round of funding.
Find similar publications here: