The Referendum On Separation For Scotland: The Impact On Higher Education, Research And Tuition Fees
HC 1144, Seventh Report of Session 2013-14 - Report, Together with Formal Minutes Relating to the Report
Author:

House of Commons - Scottish Affairs Committee

Publisher:

TSO (The Stationery Office)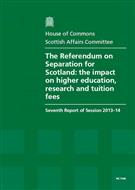 Add to Basket
'The Referendum On Separation For Scotland: The Impact On Higher Education, Research And Tuition Fees (HC 1144)' examines the effects on Higher Education in Scotland should the country vote to separate from the UK in the September 2014 referendum. The Report explores the various aspects of the Scottish Government's stated policy on higher education and research.
The Committee concludes:
Scottish universities currently receive over 50% more in research grants from the UK Research Councils than they would if allocation of funding was based on population share;

Proposals to discriminate against students from the rest of the UK by charging them higher fees would not be legally sustainable in the event of separation and eventual accession to the EU, thus creating a £150 million black hole in Scotland's higher education budget with an expectation that this figure would rise;

The Scottish Government has not made it clear why it expects the UK's universities and academics to freely co-operate with a separate Scotland which is intent on discriminating against UK students, nor how it would overcome the expected loss of unrestricted access to the UK's research base that would inevitably follow separation; and

Scotland's universities and researchers would lose access to the United Kingdom's Science and Innovation Network (SIN) based in British Embassies, High Commissions and Consulates around the world, which is key to enabling the Scottish research community access to sources of international funding and expertise.
The Committee recognises the attraction of achieving a degree of flexibility on immigration which Separation may offer and believes the UK government should clarify whether any such gains could be made available within the existing immigration system.
The Scottish Government must acknowledge and address the damaging effects on higher education and research that Separation would bring.
Find similar publications here: