Ready And Waiting? Transport Preparations For Winter Weather
HC 681, Tenth Report of Session 2013-14 - Report, Together with Formal Minutes Relating to the Report
Author:

House of Commons - Transport Committee

Publisher:

TSO (The Stationery Office)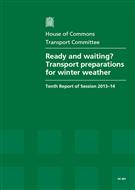 Add to Basket
The last few years have seen a number of periods when severe weather has led to widespread travel disruption, exposing a lack of preparedness across all modes of transport in terms of infrastructure, resources, and looking after the interests of passengers. The report 'Ready And Waiting? Transport Preparations For Winter Weather (HC 681)' looks at how preparation for severe weather conditions can be improved.
Pro-active decision-making by rail and aviation operators to reduce or cancel services ahead of a major event has reduced disruption. However there is scope for further improvement.
The report makes several recommendations, including:
The Highways Agency should review the barriers to providing comprehensive real time information to drivers;

The Office of Rail Regulation should ensure that train operating companies develop more robust procedures to identify how long a period of disruption is likely to last and to communicate this clearly to passengers;

The Civil Aviation Authority (CAA) should set out how it will evaluate the impact of the new airport licence conditions on passenger welfare, by Spring 2015; and

The CAA must also ensure that best practice on the provision of information and on passenger welfare is shared across all UK airports.
Although the availability of salt for gritting roads has improved with the establishment of the strategic salt reserve, more should be done to keep pavements clear of ice and snow.
However, winter weather is about more than just snow, as illustrated by the 'St Jude' storm across southern England and the more recent storm stranding thousands at Gatwick. The transport sector must continue to work closely with the Met Office and other forecasters.
Finally, embedding a culture of continuous review and improvement must remain a priority.
Find similar publications here: