All-Party Parliamentary Groups
HC 357, Sixth Report of Session 2013-14 - Volume I: Report, Together with Formal Minutes, Oral and Written Evidence
Author:

House of Commons - Committee on Standards

Publisher:

TSO (The Stationery Office)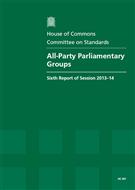 Add to Basket
All-Party Parliamentary Groups (APPGs) are groups of Members from both Houses, who may or may not be supported by outside organisations and are established for a wide range of purposes; the report 'All-Party Parliamentary Groups (HC 357)' examines the Register of such groups which is overseen by the Parliamentary Commissioner for Standards.
APPGs are seen to pose a risk to the reputation of the House as:
they may provide access for lobbyists;

they put pressure on resources; and

their output is confused with that of official select committees.
However, APPGs are also positive, in so much as they provide forums:
for cross-party interaction which is not controlled by the whips, interaction between the Members of the Commons and the Lords;

for parliamentarians, academics, business people, the third sector and other interested parties;

for time and space to discuss and debate policies; and

as a means for back bench parliamentarians to set the policy agenda.
There is a longstanding dilemma about the regulation of APPGs, since they are essentially informal groupings established by individual Members, yet the more restrictions and requirements that are placed on them the more they appear to be endorsed by the House.
The Committee proposes a package of reforms to ensure that Members' responsibility for APPG activity is clear and accountable, to ensure transparency not only with regards to external support, but also the activities funded by such support; and far greater clarity about the status of the various types of informal work that Members carry out.
Find similar publications here: