Simon Hughes
HC 805, Third Report of Session 2013-14 - Volume I: Report, Together with Appendices and Formal Minutes
Author:

House of Commons - Committee on Standards

Publisher:

TSO (The Stationery Office)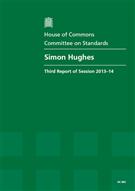 Add to Basket
The report 'Simon Hughes (HC 805)' deals with the investigation into the conduct of Mr Simon Hughes, following allegations of misconduct regarding the registration of donations and financial interests.
The Committee examines allegations that:
Mr Hughes failed to register six donations to his local party received from four named companies over six years, despite the links he had with the donors;

He failed to declare two of these financial interests, in the House and in the Public Bill Committee on the Scrap Metal Dealers Bill;

He failed to declare two of these financial interests when approaching another Member and local councillors; and

He arranged one meeting which amounted to lobbying for reward or consideration, contrary to the rules of the House.
The meeting Mr Hughes arranged to discuss a local development did not constitute a breach of the lobbying rules. There was no attempt to conceal the donations to Mr Hughes's local party, which were reported to the Electoral Commission, although there was a failure to include them in the Register of Members' Financial Interests, and a failure to declare interests.
The publication of the Commissioner's memorandum sets on record Mr Hughes's failures to declare appropriately. Mr Hughes apologised at the outset. The Committee recommends that he now registers any outstanding interests; late registrations will appear in bold italics.
There is concern that a Member of Mr Hughes's seniority and experience should have failed to observe The Code of Conduct over such a long period and failed to seek advice from the Registrar.
Mr Hughes should apologise by way of a Personal Statement to the House.
Find similar publications here: