The Work Of The UK Border Agency (January-March 2013)
HC 616, Eighth Report of Session 2013-14 - Report, Together with Formal Minutes, Oral and Written Evidence
Author:

House of Commons - Home Affairs Committee

Publisher:

TSO (The Stationery Office)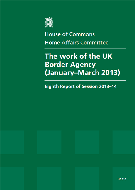 Add to Basket
By the time the Border Agency backlogs was wound up the number of cases had fallen to 432,000; however, according to the report 'The Work Of The UK Border Agency (January-March 2013) (HC 616)', most of the 70,400 reduction was achieved by simply registering pending cases on the database, and in some categories the backlog had actually grown, as with those applying for further leave to remain on the basis of marriage or civil partnership.
The Committee has no objection in principle to the introduction of a charge for access to the National Health Service for those who are in the UK only temporarily, but it expresses concerns about the possible application of the scheme to vulnerable people who have been trafficked into the country, and recommends that the Government should pilot an alternative option for visa applicants to take out private health insurance instead.
This has been a chaotic summer for immigration policy. Firstly with the controversial AdVans which were rightly ridiculed, and following this it was revealed that Capita had mishandled the contract to clear the migration refusal pool by asking British citizens to leave their own country. Finally there was a reverse-decision on visa bonds, but the uncertainty has already caused damage.
A more effective and less menacing message would be that the Government is willing and able to support those who are here illegally to return home if they want to. Tough enforcement action should be taken against those who are determined to remain here illegally, but for the target audience of potential voluntary returners, the effectiveness of incentives are potentially undermined by the ostentatious brandishing penalties.
Find similar publications here: