Migration Statistics
HC 523, Seventh Report of Session 2013-14 - Volume I: Report, Together with Formal Minutes, Oral and Written Evidence
Author:

House of Commons - Public Administration Select Committee

Publisher:

TSO (The Stationery Office)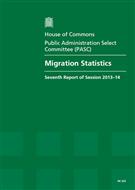 Add to Basket
The report 'Migration Statistics' examines the production of statistics by the Office for National Statistics (ONS) and the Home Office covering migration to and from the UK.
Current sources of migration statistics were established at a time when levels of migration were much lower than they are today and are no longer adequate.
Annual estimates of immigration, emigration and net migration are primarily based on a sample of around 5,000 per year migrants identified through the International Passenger Survey, which is a survey of people travelling through UK air and sea ports. These are subject to a large margin of error and do not provide sufficient detail to judge properly the social and economic consequences of migration and the effects of immigration policy.
The ONS and Home Office data are incompatible in several respects and some aspects of official migration statistics could be considerably improved if the Home Office and ONS properly recorded and linked the data they already gather. However, a full and accurate statistical account of migration to and from the UK also requires the ONS to develop new sources of migration statistics.
Find similar publications here: