Police And Crime Commissioners: Power To Remove Chief Constables
HC 487, Sixth Report of Session 2013-14 - Report, Together with Formal Minutes, Oral and Written Evidence
Author:

House of Commons - Home Affairs Committee

Publisher:

TSO (The Stationery Office)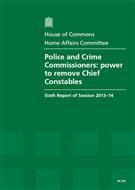 Add to Basket
The report 'Police And Crime Commissioners: Power To Remove Chief Constables (HC 487)' examines the ability of Police and Crime Commissioners to dismiss Chief Constables from their roles. It examines evidence from Ian Johnston, Gwent Police and Crime Commissioner, and Carmel Napier, the former Chief Constable whom he dismissed; and considers the departure of the Chief Constable of Avon & Somerset, and the suspension of the Chief Constable of Lincolnshire.
The Committee is concerned that Police and Crime Commissioners seem able to side-step the statutory process for dismissing a Chief Constable. Police and crime panels should fully exercise their powers of scrutiny in cases where the commissioner proposes to remove a chief constable.
The next major inquiry into Police and Crime Commissioners will be carried out towards the end of this year.
Find similar publications here: