Scrutiny Of The Draft Public Bodies (Merger Of The Gambling Commission And National Lottery Commission) Order 2013
HC 256, Second Report of Session 2013-14 - Report, Together with Formal Minutes, Oral and Written Evidence
Author:

House of Commons - Culture, Media and Sport Committee

Publisher:

TSO (The Stationery Office)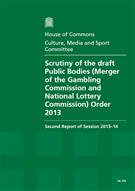 Add to Basket
The report 'Scrutiny Of The Draft Public Bodies (Merger Of The Gambling Commission And National Lottery Commission) Order 2013 (HC 256)' examines the proposed merger of the Gambling Commission and National Lottery Commission, in light of apparent conflicts of interest in the two regulators' underlying purposes.
The National Lottery Commission is concerned with promoting the National Lottery and maximising the return to good causes, whereas the Gambling Commission has a more general duty to protect consumers and to promote fair competition in its regulation and licensing of commercial gambling.
The Committee concludes that the case for bringing these two regulators under the provisions of the Public Bodies Act is justified; but it will be important that safeguards are put in place by the Gambling Commission to ensure its decisions and actions are clear, logical and not liable to legal challenge.
The financial savings that will be derived from the merger are relatively small and will involve proportionately high initial costs, but the move should be cost effective in the long term. A consistent approach to regulatory issues which are common to the National Lottery and the competitive gambling sectors will also be beneficial.
Find similar publications here: