Department For Communities And Local Government: Financial Sustainability Of Local Authorities
HC 134, Third Report of Session 2013-14 - Report, Together with Formal Minutes, Oral and Written Evidence
Author:

House of Commons - Committee of Public Accounts

Publisher:

TSO (The Stationery Office)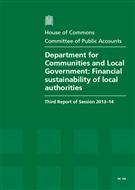 Add to Basket
The report 'Department For Communities And Local Government: Financial Sustainability Of Local Authorities (HC 134)' examines the effects of cuts made by central Government on local authorities.
Grant funding to local authorities is being cut by over a quarter in real terms (£7.6 billion) between 2011 and 2015. The Department for Communities and Local Government (DCLG) is also introducing fundamental changes to the local government finance system with reforms to business rates and council tax benefits, so the pressures on the sector are set to increase.
The Committee considers that the DCLG does not properly understand the overall impact on local services that will result from the funding reductions, and has not modelled how funding changes may adversely affect other areas of the public sector. The DCLG must improve its ability to foresee what effects the full package of funding reductions and reforms will have on local authority areas, particularly for those authorities which face higher deprivation levels.
Local authorities' statutory duties have stayed broadly the same while the cuts are being made, and in some areas such as adult social care, the demand for services is increasing. There is a risk that the worst-affected councils will be unable to meet their statutory obligations, threatening their viability.
The DCLG did not make clear how it will monitor councils' ability to cope with funding changes, or the extent to which they are able to do this by increasing efficiency rather than reducing services. Also, it has not demonstrated that the information published is sufficient to provide assurance on the value for money with which councils spend their resources.
Plans to respond if councils become unviable must be clarifed by the DCLG, and more information to understand councils' spending and performance is needed.
Find similar publications here: