Department Of Health: Progress In Making NHS Efficiency Savings
HC 865, Thirty-ninth Report of Session 2012-13 - Report, Together with Formal Minutes, Oral and Written Evidence
Author:

House of Commons - Committee of Public Accounts

Publisher:

TSO (The Stationery Office)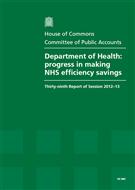 Add to Basket
The NHS has achieved its financial savings target; the report 'Department Of Health: Progress In Making NHS Efficiency Savings (HC 865)' identifies that this has largely come from a wage freeze, but there is also concern that other savings are being achieved by rationing patients' access to certain treatments.
In addition, the finances of some trusts are fragile and there is a risk they may resort to simple cost-cutting rather than finding genuine efficiency savings.
The NHS must fundamentally change the way that healthcare is provided to secure the level of savings needed in the future, for example by moving services out of hospitals and into the community.
The Committee is not satisfied that the Department and the NHS Commissioning Board is doing enough to help the NHS transform services. Local people are understandably resistant when proposals are made to close their local hospital or reduce the range of services it provides.
It is down to the Department to make a clear case for change from the patient's point of view, demonstrating the benefits in terms of the quality and safety of care as well as cost savings.
Find similar publications here: