2012 Accountability Hearing with the Care Quality Commission
HC 592, Seventh Report of Session 2012-13 - Volume I: Report, Together with Formal Minutes, Oral and Written Evidence
Author:

House of Commons - Health Committee

Publisher:

TSO (The Stationery Office)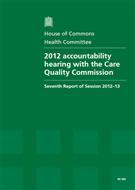 Add to Basket
'2012 Accountability Hearing with the Care Quality Commission (HC 592)' examines the failures of the Care Quality Commission (CQC) which prompted the Department of Health to undertake a performance and capability review, producing a wide range of recommendations.
The decision by CQC board member, Kay Sheldon, to give evidence as a whistleblower added to the controversy. She identified serious failings within the management, organisation, functions and culture of the CQC, and it is unacceptable that the CQC failed to address and act on them before she felt compelled to approach the public inquiry.
It is clear from the evidence presented by the CQC's outgoing Chair, Jo Williams, and recently appointed Chief Executive, David Behan, that the regulator is aware of the reforms that must be implemented.
Recommendations for the CQC include:
That their primary focus should be on ensuring that the essential standards it enforces can be interpreted by the public as a guarantee of acceptable standards in care. The CQC's essential standards, in their current form, do not succeed in this objective.

The CQC must be far more diligent in communicating the outcomes of inspections, especially to residents in social care and their immediate family.

In the long-term, the CQC has a role to play in facilitating a culture of challenge and response across health and social care, so that identifying and addressing failings becomes a standard process for staff and management.

Providers must support staff in raising concerns in order for those staff to meet their own professional duties. Those organisations who fail in this obligation should be refused registration by the CQC.
Find similar publications here: