The Committee's Opinion on the European Union Data Protection Framework Proposals
HC 572, Third Report of Session 2012-13 - Volume I: Report, Together with Formal Minutes, Oral and Written Evidence
Author:

House of Commons - Justice Committee

Publisher:

TSO (The Stationery Office)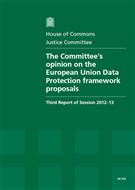 Add to Basket
'The Committee's Opinion on the European Union Data Protection Framework Proposals (HC 572)' assesses the processes and procedures specified within the EU proposals to update data protection laws, which do not allow for flexibility or discretion for businesses or other organisations that hold personal data.
The proposals should focus on those elements that are required to achieve the Commission's objectives, whilst compliance should be entrusted to Member States' data protection authorities. These instruments would give EU citizens new data protection rights as set out in the Charter of Fundamental Rights of the European Union and the Lisbon Treaty.
Despite its criticisms, the Committee welcomes the potential benefits that an updated law could bring. For individuals, their rights would be strengthened, and in particular the new framework would guard against some of the more unwelcome and often criticised aspects of digital data processing.
From a business perspective, the benefits would mainly accrue through the effective harmonisation of laws. Whilst the draft Regulation would cover general data protection, the draft Directive is specifically concerned with data protection for law enforcement purposes.
The Committee are advised that the draft Directive does not apply to domestic processing by law enforcement agencies within the UK. This needs to be placed beyond doubt.
Additionally, it needs to be made clear that the Directive must not impact on the ability of the police to use common law powers, to pass on information in the interests of crime prevention and public protection.
Find similar publications here: