The Budget and Structure of the Ministry of Justice
HC 97-I, Second Report of Session 2012-13 - Volume I: Report, Together with Formal Minutes
Author:

House of Commons - Justice Committee

Publisher:

TSO (The Stationery Office)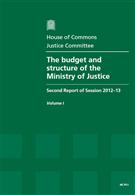 Add to Basket
'The Budget and Structure of the Ministry of Justice (HC 97-I)' reports that in the five years since the Ministry of Justice was created, it has made improvements to its structure and performance and is now a more integrated Department. However, the Ministry is still too much in thrall to the prison service: better integrated offender management would enable the Ministry to make the financial savings demanded of it but also provide a more effective service to clients, users and the wider public, and in particular to achieve its key objective to reduce re-offending.
The Ministry has been subject to past criticism for poor financial management - missing the Treasury's deadline for the laying of accounts three years running, woeful inefficiency in the administration of legal aid and too much focus on policy at the expense of delivery. Following an in-depth investigation into all aspects of the Department's work, the Committee concluded that the Ministry has got a grip of the situation and is justifying the rationale for its creation. However, the MPs believe the Department could undergo further restructuring to create a single delivery body.
Additionally, the current structure of the National Offender Management Service (NOMS), which continues to be driven by prison priorities, produces difficulties in reducing re-offending. The Committee also makes a number of further recommendations to improve how the Department functions.
Find similar publications here: