The Completion and Sale of High Speed 1
HC 464, Fourth Report of Session 2012-13 - Report, Together with Formal Minutes, Oral and Written Evidence
Author:

House of Commons - Committee of Public Accounts

Publisher:

TSO (The Stationery Office)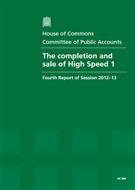 Add to Basket
The high speed railway linking London to the Channel Tunnel known as 'High Speed 1' (HS1), has now been fully open for almost five years and has had a good performance record; however, 'The Completion and Sale of High Speed 1 (HC 464)' reports that there have also been some costly mistakes.
The Department originally expected London and Continental Railways Limited (LCR) to service the project debt from future revenues from Eurostar UK. However by the end of 1997 revenues were substantially below LCR's forecasts. Consequently, in 1998, the Department agreed to restructure the deal and guarantee most of LCR's debt. The taxpayer is now servicing and repaying the project debt of £4.8 billion.
Passenger demand for international services on the line has been much lower than forecast - which was the root cause of failure for the original deal. Planning assumptions failed to properly consider the impact on passenger numbers from the growth of low cost airlines aswell as the competitive response of ferry companies.
The Department still does not have plans in place to evaluate fully the impact of HS1. Total taxpayer support for the line over a 60 year period to 2070 is estimated to be £10.2 billion. Benefits for passengers from shorter journey times over this period have an estimated present value of £7 billion. However, the basis of this cost/benefit analysis is open to challenge.
The Department will need to evaluate HS1's regeneration benefits and wider economic impacts if the project is to demonstrate value for money, and must learn from these lessons as it develops its plans for 'HS2'.
Find similar publications here: