Sitting Hours and the Parliamentary Calendar
HC 330, First Report of Session 2012-13 - Volume I: Report, Together with Formal Minutes, Oral and Written Evidence
Author:

House of Commons - Procedure Committee

Publisher:

TSO (The Stationery Office)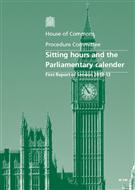 Add to Basket
'Sitting Hours and the Parliamentary Calendar (HC 330)' finds evidence to suggest that the current balance of approximately 150 days over 34 weeks of the year, is a broadly correct timetable for Memebers to attend the House.
There has been a huge increase in the constituency workload over the past few years adding to the pressure on Members of Parliament. Each Member has a different way of working which means, in considering sitting hours, there are no mainstream options which are necessarily right or wrong.
The Committee recommends that the House are given the opportunity to vote on whether to continue to sit during September from 2013 onwards. There is widespread recognition that there is no scope for any diminution in the time available to the House for debate and scrutiny of legislation.
The current pattern of eight sitting hours on each sitting day between Monday and Thursday should also continue, subject to future decisions concerning Friday sittings. Suggestions were heard that the House should sit normal working hours but that could be ill-suited to the transaction of other important Parliamentary business and the needs of Members whose constituencies are some distance from Westminster.
The proposal of 'injury time' to compensate for time spent on oral statements was deemed undesirable, but the Committee suggests that there should be a mechanism for backbenchers to question a Minister between 11.00 and 11.30 on Wednesdays.