Draft Legislative Reform (Annual Review of Local Authorities) Order 2012
HC 158, First Report of Session 2012-13 - Report, Together with Formal Minutes
Author:

House of Commons - Regulatory Reform Committee

Publisher:

TSO (The Stationery Office)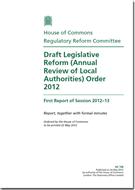 Add to Basket
The report 'Draft Legislative Reform (Annual Review of Local Authorities) Order 2012 (HC 158)' proposes the repeal of section 138 of the Education and Inspections Act 2006 to remove the duty on HM Chief Inspector of Education, Children's Services and Skills to undertake an annual review of the performance of each top tier Local Authority in England in relation to certain children's services functions.
The Committee is satisfied that the repeal of section 138 is uncontroversial and meets the preconditions and tests for legislative reform orders - as set out in the Legislative and Regulatory Reform Act 2006. But as the draft Order represents a policy shift away from a position which was determined by the House itself in the recent past, the Committee considers that the House ought to have at least the opportunity of voting on the Order.
It is recommended that the procedure on the draft Order be upgraded from negative to affirmative and that the Order be approved.
Find similar publications here: