Mobile Technology in Policing
HC 129, Second Report of Session 2012-13 - Report, Together with Formal Minutes, Oral and Written Evidence
Author:

House of Commons - Committee of Public Accounts

Publisher:

TSO (The Stationery Office)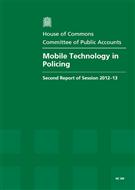 Add to Basket
'Mobile Technology in Policing (HC 129)' examines the Mobile Information Programme which ran between 2008 and 2010. The Home Office distributed £71 million of central funding through the National Policing Improvement Agency to police forces to enable them to buy over 41,000 new mobile devices (such as Blackberrys and Personal Data Assistants) for police officers and police community support officers.
The Programme highlights significant gaps in accountability where responsibility for expenditure has been devolved to local police forces. In future, accountability will be maintained locally through Police and Crime Commissioners and nationally by Parliament, with Her Majesty's Inspectorate of Constabulary responsible for collecting data on value for money within the police forces.
However, it is not certain that these measures will be sufficient; just how the mobile devices could be used to improve ways of working and make efficiency savings was not properly considered at the outset.
It was estimated that this programme would contribute £125 million to cashable police service savings. So far, police forces have declared cashable savings of just £0.6 million; less than 1% of the amount invested in the Programme. The Agency estimates that some £1.5 billion is spent annually on police information and communications technology, which is 10% of total annual spend on policing.
Reductions in central funding for police forces mean that the collaboration and use of technology to make savings is essential. The Agency is being closed down this year, so progress on this will depend on the success of the new company, which aims to allow forces to respond to local information technology requirements collaboratively, but is based on voluntary cooperation.
Find similar publications here: