Ministry of Defence: Managing Change in the Defence Workforce
HC 1905, Eighty-eighth Report of Session 2010-12 - Report, Together with Formal Minutes, Oral and Written Evidence
Author:

House of Commons - Committee of Public Accounts

Publisher:

TSO (The Stationery Office)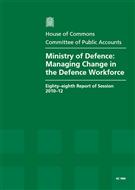 Add to Basket
The Ministry of Defence announced in the summer of 2010 that it had a funding gap of £38 billion over the next ten years. 'Ministry of Defence: Managing Change in the Defence Workforce (HC 1905)' examines how savings in the reduction of personnel to meet the funding challenge may lead to a widening skills gap, with greater costs falling to external expertise.
As part of the Government's efforts to reduce the deficit the Department needs to reduce its annual spending by 7.5% in real terms by 2015. It intends to achieve a significant proportion of its required savings by reducing its civilian personnel by 29,000 and its military personnel by 25,000, which is estimated to create savings of £4.1 billion between 2011 and 2015.
The Department is currently enacting a transformation programme to deliver on the Strategic Defence and Security Review priorities with fewer staff. However, the Department has put plans in place to implement reductions in its workforce before it has finalised its new operating model.
There is concern that plans to reduce the workforce have been determined by the need to cut costs rather than by considering how to deliver its strategic objectives, which could lead to a further skills gap developing. This gap may result in the Department becoming increasingly reliant on external expertise, with consultancy expenditure having already grown from £6 million in 2006-07 to £270 million in 2010-11.
Find similar publications here: