Visitor Access and Facilities
HC 13, First report of Session 2012-13 - Volume I: Report, Together with Formal Minutes, Oral and Written Evidence
Author:

House of Commons - Administration Committee

Publisher:

TSO (The Stationery Office)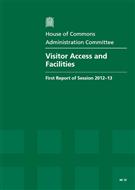 Add to Basket
Approximately one million people enter the parliamentary estate every year as visitors rather than as Members or staff of the two Houses of Parliament. 'Visitor Access and Facilities (HC 13)' reports on the need for the two Houses to balance the business needs of a fully working legislature and those of a visitor attraction.
Parliament is first and foremost a working institution, and that implies clear principles for how access is organised. Democratic access to the work of Parliament must remain free and open, enabling any citizen, at least so far as physical space allows, open access to sittings in the two Chambers, in the Committee Rooms and in Westminster Hall, or to meet their Member of Parliament.
Considerable work needs to be done on how the visitor attraction part of Parliament is best operated, to persuade reluctant Members and staff of both Houses to recognise the difference between the democratic access to the work as a place of interest, and its heritage and tourism aspects.
Two conceptions of Parliament are required:
The working institution.

The visitor attraction.
The two should be complementary, not in conflict, and some of the tensions that presently arise would be resolved if the two concepts were more rigorously held apart.
Find similar publications here: