Automatic Enrolment in Workplace Pensions and the National Employment Savings Trust
HC 1494, Eighth Report of Session 2010-12 - Report, Together with Formal Minutes, Oral and Written Evidence
Author:

House of Commons - Work and Pensions Committee

Publisher:

TSO (The Stationery Office)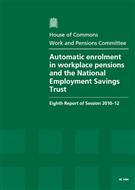 Add to Basket
'Automatic Enrolment in Workplace Pensions and the National Employment Savings Trust (HC 1494)' looks at the National Employment Savings Trust (NEST), established by the Government as a low-cost pension scheme to deliver the auto-enrolment programme and address market failures in the pensions industry. However, the Work and Pensions Committee believes that certain restrictions placed on NEST will create complexity for employers and will disadvantage some employees.
The Committee recommends that Government remove the following restrictions:
the cap on the annual contributions an individual can make to a NEST scheme; and

the ban on individuals transferring existing pension pots into NEST.
The Committee further urges the Government to proceed with its plans for State Pension reform, introducing a flat-rate State Pension and reducing the level of means-testing without delay.
The report highlights the difficulties and complexity employers and employees currently face in comparing the fees and charges applied by pension providers. The Committee recommends that from 2013 onwards, the Government should use its powers to intervene on any charges that represent poor value for money.
Auto-enrolment will impose new costs and may be particularly challenging for small employers, however the Committee considers that the Government has taken appropriate steps to minimise the impact on businesses through its gradual and flexible approach ("staging and phasing") to implementation.
Find similar publications here: