Alcohol Guidelines
HC 1536, Eleventh Report of Session 2010-12, Report, Together with Formal Minutes, Oral and Written Evidence
Author:

House of Commons - Science and Technology Committee

Publisher:

TSO (The Stationery Office)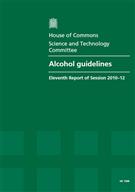 Add to Basket
'Alcohol Guidelines (HC 1536)' raises concerns about the Government's advice on sensible drinking and recommends that alcohol guidelines are reviewed.
In 1987, the "sensible limits" for drinking were defined as 21 units of alcohol a week for men and 14 for women. By the early 1990s, scientific evidence suggesting that alcohol consumption might reduce the risk of coronary heart disease prompted a review of the guidelines, and the drinking guidelines were then couched in daily terms: men should not regularly drink more than three to four units a day and women no more than two to three units a day.
The Committee is sceptical about using the purported health benefits of alcohol as a basis for daily guidelines for the entire adult population, particularly as any protective effects would only apply to men over 40 years and post-menopausal women. Evidence suggests that the guidelines should not be increased and that people should take at least two drink-free days a week.
While public awareness of the existence of guidelines is high, a deeper understanding of what the guidelines were and of what a unit of alcohol looked like is lacking. Through the Public Health Responsibility Deal, the Government is working with the drinks industry to ensure that over 80% of alcoholic products on shelf will have labels to indicate alcoholic unit content and the drinking guidelines by 2013.
The Government should remain mindful that sensible drinking messages may conflict with the business objectives of drinks companies and exercise proper scrutiny and oversight.
Find similar publications here: