Achievement of Foundation Trust Status by NHS Hospital Trusts
HC 1566, Sixtieth Report of Session 2010-12: Report, Together with Formal Minutes, Oral and Written Evidence
Author:

House of Commons, Committee of Public Accounts

Publisher:

TSO (The Stationery Office)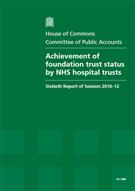 Add to Basket
'Achievement of Foundation Trust Status by NHS Hospital Trusts (HC 1566)' is a report by the Committee of Public Accounts examining the responsibility for dealing with this huge challenge, and what is being done to protect taxpayers and patients when trusts need external help. Nearly half of all Hospital Trusts have not yet achieved Foundation Trust status, but the Government wants almost all Trusts to do so by 2014.
Challenges facing hospitals yet to attain Foundation status are more severe than previously thought:
four out of five now face financial difficulties;

78% say they have to tackle strategic issues;

two thirds acknowledge they have performance and quality challenges; and

nearly 40% say they need to strengthen their governance and their leadership.
The Committee is particularly alarmed that the healthcare system in London has been allowed to deteriorate despite its problems having been known about for many years. Trusts will be forced into reconfigurations or even mergers. The Department reassured that none of the Trusts' current plans involve closing hospitals, but some Trusts are in such a poor financial state it is difficult to see why other organisations would want to take them on.
The Chief Executive of the NHS is only "moderately confident" that London's hospital system can be turned round, and acknowledged the unique challenges and obstacles to be overcome.
Find similar publications here: