The Cost-effective Delivery of an Armoured Vehicle Capability
HC 1444, Fifty-ninth Report of Session 2010-12 - Report, Together with Formal Minutes, Oral and Written Evidence
Author:

House of Commons - Committee of Public Accounts

Publisher:

TSO (The Stationery Office)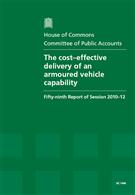 Add to Basket
Since the 1998 Strategic Defence Review, the Ministry of Defence (MoD) has attempted to acquire the vehicles it needs through a number of procurement projects. However, as 'The Cost-effective Delivery of an Armoured Vehicle Capability (HC 1444)' discusses, none of the principal armoured vehicles it requires have yet been delivered, despite the MoD spending £1.1 billion since 1998, including £321 million wasted on cancelled or suspended projects.
Armoured vehicles such as tanks, reconnaissance and personnel-carrying vehicles are essential for a wide range of military tasks. There will be gaps in capability until at least 2025 as a result of the undelivered vehicles, making it more difficult to undertake essential tasks such as battlefield reconnaissance.
Partly as a result of this £1.1 billion failure to yet deliver any armoured vehicles, and to meet the specific military demands of operating in Iraq and Afghanistan, the MoD was provided with a further £2.8 billion from the Treasury Reserve to buy Urgent Operational Requirements (UOR) vehicles. Over the past six years, the Department has removed £10.8 billion from armoured vehicle budgets up to 2021. This has left £5.5 billion available for the next ten years, which is insufficient to deliver all of the armoured vehicle programmes which are planned.
The MoD needs to be clearer about its priorities, and stop raiding the armoured vehicles chest every time it needs to make savings across the defence budget. It will also need to set more realistic requirements in future if it is to deliver projects on time and to budget.
The Committee expressed concern that the Department was unable to identify anyone who has been held to account for the clear delivery failures. Further, the MoD has yet to balance its defence budget fully and devise a plan to close capability gaps despite having conducted the Strategic Defence and Security Review and two subsequent planning exercises. It needs to determine its armoured vehicle equipment priorities and deliver these as rapidly and cost-effectively as possible, including making an assessment of which of its existing vehicles should be retained after combat operations in Afghanistan cease.
Find similar publications here: