Oversight of User Choice and Provider Competition in Care Markets
HC 1530, Fifty-seventh Report of Session 2010-12 - Report, Together with Formal Minutes, Oral and Written Evidence
Author:

House of Commons - Committee of Public Accounts

Publisher:

TSO (The Stationery Office)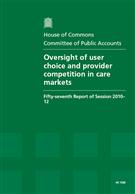 Add to Basket
Effective oversight of the care market is essential to protect the interests of both social care users and of taxpayers. 'Oversight of User Choice and Provider Competition in Care Markets (HC 1530)' discusses a growing consolidation in the social care market at a regional level. Yet the Department of Health (the Department) did not have a view on what level of market share represents a risk of provider dominance, or arrangements to protect users should a large-scale provider fail. This is worrying given the recent experience of Southern Cross and the high levels of debt that some providers are carrying.
There are risks to the future functioning of the social care market from local authority budget reductions.
Currently 340,000 people or 30 % of eligible care users have a personal budget which enables the individual to choose their care provider. The Government wants all eligible users to be offered a personal budget by April 2013. Personal budgets currently cost the taxpayer £1.5 billion each year. The total annual expenditure on care is around £23 billion.
The report notes some difficult areas with personal budgets: provision of advice, ease of changing support, redress. The Department has to rely on local authorities to implement its policy of universal provision of personal budgets but it cannot compel local authorities to act.
The Department will shortly issue a White Paper on reforming social care delivery. The changes the Department makes must address concerns about giving users a real choice, overseeing the market to ensure competition and stability, and putting in place arrangements and contingencies to deal with major provider failure.
Find similar publications here: