Passengers' Experiences of Air Travel
HC 435-I, Eighth Report of Session 2006-07 – Volume I: Report, Together with Formal Minutes
Author:

House of Commons – Transport Committee

Publisher:

TSO (The Stationery Office)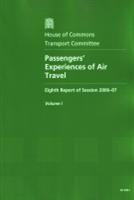 Add to Basket
Air travel has expanded hugely over the past 25 years and in 2005 228 million passengers travelled through UK airports. 'Passengers' Experiences of Air Travel (HC 435-I)' looks at the passenger experience of air travel from purchasing a ticket to boarding the plane, including travel to and from the airport, check-in and security, and complaint resolution. It finds that passengers are more frustrated and dissatisfied than ever.
More choice has not led to more power, easier purchasing of tickets has not led to greater transparency, security queues are getting longer with rules becoming more convoluted, and consumer rights can be overwhelmed by legal complexity. The Committee look to the aviation industry to work towards a system whereby the passenger can buy a clearly priced ticket, drop off baggage and quickly proceed through security, to board a plane staffed by well qualified and polite staff.
The accompanying 'Passengers' Experiences of Air Travel – Volume II: Oral and Written Evidence (HC 435-II)' (ISBN 0215035526) is available to buy separately, see below.
Find similar publications here: