Approved document J: 2002 edition guidance and supplementary information on the UK implementation of European standards for chimneys and flues
Author:

Great Britain Office of the Deputy Prime Minister

Publisher:

TSO (The Stationery Office)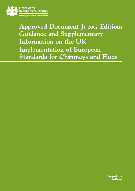 Add to Basket
Current building regulations in England and Wales lay down goal setting requirements for the safe construction of chimneys and flues and are supported by Approved Document J which provides guidance on meeting the requirements. This, in turn, is supported by a raft of British Standards and other recognised industry documents which have been developed during a period of several decades to lead and reflect good industry practice as applied in England and Wales.
This guidance document is intended to provide a background understanding of the European process of harmonisation in the field of chimney standards, and gives clause-by-clause guidance and supplementary information on how the published and emerging standards can be applied when following the guidelines in the Approved Document.
The guidance in this edition is accurate as of August 2004 unless qualified by amendment.
Find similar publications here: