The Official DVSA Theory Test for Car Drivers Interactive Download
Author:

Driver and Vehicle Standards Agency

Publisher:

TSO (The Stationery Office)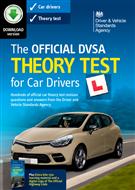 Please note: We're aware that some Apple Mac users running MacOS Catalina (version 10.15) and MacOS Big Sur (version 11) are experiencing problems using this product. We advise you to use the DVSA Learning Zone (opens new window) instead for the best user experience.
Prepare to pass your theory test first time with The Official DVSA Theory Test for Car Drivers download, the ONLY official software revision tool for PC and Mac.
No disc drive is required! You'll be sent a link to download the software from our website.
Five reasons to buy it:
1. Learn from the experts - the official interactive download from DVSA, the people who set the test
2. Easy to understand - written in an easy-to-remember way that links the theory to your practical driving experience, helping you to really understand
3. Practice questions - includes hundreds of official DVSA theory test revision questions for all 14 topics, so you can see how much you've learnt
4. Clearly track your progress - it's easy to see how much you've completed, how you're doing and which topics need a bit more work
5. Prepares you for the day of your test - mock tests just like the real thing. The revision questions and case studies cover the same topics as the actual test
More Information
Extra help to understand the answers - each question includes references to the official source materials, where you can learn more

Helpful extras - including a digital version of The Official Highway Code and a downloadable voiceover option