Violence Against Women And Girls
HL 106, HC 594 - Sixth Report of Session 2014-15 - Report, Together with Formal Minutes and Appendices
Author:

House of Lords, House of Commons - Joint Committee on Human Rights

Publisher:

TSO (The Stationery Office)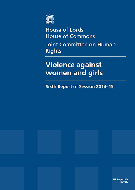 Add to Basket
The report 'Violence Against Women And Girls (HL 106, HC 594)' concludes that the Government's progressive work on tackling violence against women and girls abroad is not translating into its domestic policy, despite its Violence against Women and Girls Action Strategy and the Home Secretary's personal commitment to the issue.
The Committee warns that failure to provide adequate refuge spaces and specialist services for victims of violence against women and girls demonstrates the difficulty for the Government in fulfilling its international obligations under the Istanbul Convention, when decisions over commissioning of certain services has been devolved.
There is an alarming prevalence of violence against women and girls across many cultures in the UK today, and the Committee heard troubling evidence from many minority groups that represent women with particular needs. However, the portrayal of women as victims of violence is deeply embedded in cultural stereotypes, in the depiction of women in the media and in how women are treated in the asylum system, and this must stop.
The report makes several recommendations, including:
schools should play a greater role and include issues of violence against women and girls within the PSHE curriculum;

whilst the Government has taken steps to engage with the media and with public awareness campaigns to counteract the sexualised portrayal of women, the media themselves should do more; and

the Government look again at the payment of universal credit to couples because of its concerns that it could put women subject to domestic violence at risk.