Handling Allegations Of Corruption
HC 1074, A Report by the Parliamentary Ombudsman on an Investigation Into a Complaint About the Department for International Development
Author:

Parliamentary and Health Service Ombudsman

Publisher:

TSO (The Stationery Office)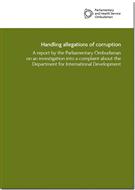 Add to Basket
The report 'Handling Allegations Of Corruption' (HC 1047) investigates the handling of a complaint by a Mr F into the conduct of the Department for International Development (DFID).
Mr F complained that:
(i) DFID failed to conduct a thorough and independent investigation into his allegations, or exercise reasonable oversight of CDC Group plc (CDC); and
(ii) DFID did not appropriately handle the allegations and information that Mr F sent.
Mr F's allegations concerned inappropriate use of funds by one of the fund managers in whom CDC invested. He says he has been caused outrage as a result of DFID's actions and says that because DFID did not secure his anonymity he has suffered threats and has been unable to return to his life in Nigeria.
The Ombudsman partly upholds Mr F's complaint, and finds maladministration in the way DFID investigated and reported on its consideration of Mr F's allegations. However, it was not found that DFID was unreasonable in its conclusions. DFID did not ensure Mr F's confidentiality, but this did not lead to all the injustice Mr F claims.
Find similar publications here: