Office For Budget Responsibility Economic And Fiscal Outlook March 2017
Cm. 9419
Author:

Office for Budget Responsibility (OBR)

Publisher:

TSO (The Stationery Office)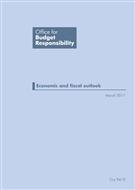 Add to Basket
The report 'Office For Budget Responsibility Economic And Fiscal Outlook March 2017 (Cm. 9419)' concludes that public sector borrowing is likely to be significantly lower than anticipated, this largely reflects one-off factors and timing effects that flatter the figures at the expense of next year.
Key findings
Borrowing is now forecast to rise in 2017-18 before returning to a downward trajectory similar to that which was originally expected. This leaves the Chancellor on course to meet his target for structural borrowing in 2020-21, but does not yet achieve his goal of balancing public finances 'at the earliest possible date in the next Parliament'.

The deficit is now forecast to come in at £51.7 billion this year, down from the £68.2 billion forecast in November. It is now expected to increase by £6.5 billion next year rather than shrinking by £7.2 Billion.

The biggest policy effects arise from the Ministry of Justice's decision to reduce the personal injury discount rate.

Looking ahead, real GDP is expected to grow moderately during the first half of 2017 as rising inflation squeezes household budgets and real consumer spending.