Action For Roads: A Network For The 21st Century
Cm. 8679
Author:

Department for Transport

Publisher:

TSO (The Stationery Office)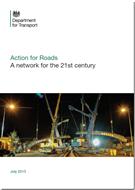 Add to Basket
The road network is a crucial part of the national transport system. The white paper 'Action For Roads: A Network For The 21st Century (Cm. 8679)' sets out the government's plans for improvement of the UK's road networks, including the biggest ever upgrade of motorways and key A roads.
This white paper presents the next steps as being to:
invest in 52 schemes, including 16 new projects;

start construction on five major road schemes by April 2014;

begin feasibility studies on five problem hotspots on the strategic road network;

continue with route based strategies for the whole network to build a next generation of improvements and interventions;

consult later this year on turning the Highways Agency into a publicly owned strategic highways company;

publish a draft national policy statement for national networks in 2013, with the aim of formally designating the document in 2014;

introduce legislation in 2014, providing a stable funding basis for investment and legal powers for the new Highways Agency; and

produce the first Road Investment Strategy later this parliament, guaranteeing roads investment to 2021.
By 2021, spending on road enhancements will have tripled from today's levels, and we will have resurfaced 80% of the network.
Find similar publications here: