The Protection of Children in England: Action Plan - The Government's Response to Lord Laming
Cm. 7589
Author:

Department for Children, Schools and Families (DCSF)

Publisher:

TSO (The Stationery Office)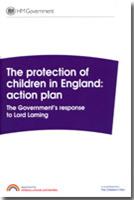 Add to Basket
This document sets out the Government's detailed response to Lord Laming's March 2009 report, 'The Protection of Children in England: A Progress Report (HC 330)' (ISBN 9780102958928), and its action plan to achieve the step change in the arrangements to protect children from harm that Lord Laming recommended.
The Government's response includes:
Sir Roger Singleton has been appointed the Chief Adviser on the Safety of Children and will report annually to Parliament.

A National Safeguarding Delivery Unit is to be established to:

give strong coordinated leadership;

provide support and challenge to local authorities;

promote dynamic learning and good practice development; and

to monitor progress.

More rigorous inspection arrangements have been designed by Ofsted, and the Care Quality Commission and the inspectorates for constabulary and probation are also reviewing and extending inspection methodologies.

Local leadership and accountability will be supported through the Children's Trusts, Local Safeguarding Children Boards, Directors of Children's Services, local authority chief executive and council leaders.

The wider public has a role to play too and the views of local communities will be sought.

The standard guidance - 'Working Together to Safeguard Children' (ISBN 9780112711872) - will be revised by the end of 2009 to incorporate these changes.
Support for the front line will cover:
early intervention in schools and children's centres

information sharing and assessment

specialist training in child protection for police

health service including health visitors

social work reform, including reform of the Integrated Children's System and measures to address the problems of recruitment and retention of children's social workers in local government

delay in care proceedings will be reduced.
The action plan responds to each of Lord Laming's recommendations.
Find similar publications here: