Education
Great Teachers: Attracting, Training and Retaining the Best
HC 1515-I, Ninth Report of Session 2010-12 - Volume I: Report, Together with Formal Minutes
Author:

House of Commons - Education Committee

Publisher:

TSO (The Stationery Office)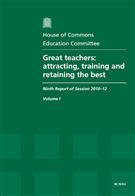 Add to Basket
Just a year's exposure to a high-performing teacher can have a lasting impact on pupils – building confidence, earnings and well-being later in life, the report 'Great Teachers: Attracting, Training and Retaining the Best (HC 1515-I)' finds. This differential effectiveness between teachers is profound and there is an overwhelming need to increase the number of effective teachers. Likewise, it's necessary to reduce the number with whom children learn at a slow rate.
The Committee's report concludes a long inquiry looking at recruitment, training and retention of the best teachers. This set out to understand better the qualities found in great teachers, and to examine how such people might be attracted more readily to the profession, trained as well as possible, and motivated to remain within the profession.
Highlighting how the ongoing professional development for teachers has been neglected for far too long, the Committee recommends:
a new College of Teaching;

an entitlement to professional development for all teaching staff;

radical reforms to the existing career structures for teachers; and

a new National Teacher Sabbatical Scholarship programme where outstanding teachers can undertake a period of further research or employment in a related field to improve their practice.
The Committee also suggests a new system of 'taster sessions', where people can experience teaching before deciding whether or not to commit to training.
The Government needs to market teaching more effectively and consistently so that, like the most successful countries in education, there is more competition to enter the profession and a greater likelihood of selecting the best.

Find similar publications here:

Show all Subjects & Categories