TSO Scotland
Combating Climate Change – A Role For UK Forests: The Synthesis Report
An Assessment of The Potential of The UK's Trees and Woodlands to Mitigate and Adapt to Climate Change.
Author:

National Assessment of UK Forestry and Climate Change Steering Group

Publisher:

TSO (The Stationery Office)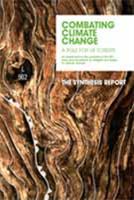 Add to Basket
'Combating Climate Change - A Role For UK Forests: The Synthesis Report' is an independent assessment, commissioned by the Forestry Commission to examine the potential of the UK's trees and woodlands to mitigate and adapt to our changing climate. This synthesized version of the main report presents the findings of the first national assessment of UK forestry and climate change and it forms part of the UK's response to the Intergovernmental Panel on Climate Change 4th Assessment Report from 2007.
This publication from the National Assessment of UK Forestry and Climate Change Steering Group brings together information at a national level. The assessment aims to provide a better understanding of how UK forestry can adapt to and improve its contribution to mitigation of climate change, with the following specific objectives:
Review and synthesise existing knowledge on the impacts of climate change on UK trees, woodlands and forests

Provide a baseline of the current potential of different mitigation and adaptation actions

Identify gaps and weaknesses to help determine research priorities for the next five years.
The assessment was compiled by a number of leading scientists co-ordinated by an independent steering group of forestry and climate change experts from the UK and overseas, chaired by Professor Sir David Read, recently Vice President of the Royal Society.
This title is also available as a free PDF.
Download Synthesis Report (PDF - 3,028 KB)


Show all Subjects & Categories