Law
Government's Proposed Reform of Legal Aid
HC 681-I, Third Report of Session 2010-11 - Report, Together with Formal Minutes
Author:

House of Commons - Justice Committee

Publisher:

TSO (The Stationery Office)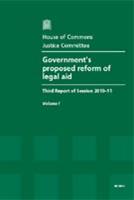 Add to Basket
'Government's Proposed Reform of Legal Aid (HC 681-I)' details the Justice Committee's examination of the Government's proposed reform of legal aid.
The proposals are intended to reduce by £350 million a year the cost of the system (which, with expenditure of more than £2 billion annually, is one of the most expensive in the world) at a time when the Ministry of Justice has to reduce its overall spending by almost a quarter.
Certain areas of law will fall outside the scope of legal aid, with some being removed in their entirety, which includes family law, though not domestic violence. The Committee is unconvinced that using domestic violence as a proxy for the most serious cases is advisable and calls on Government to look at other ways legal aid can be focussed on the most serious family law cases.
The Committee does welcome the Government's support for mediation services in family cases, but does not see this as a cure-all method.
Further work needs to be done on how difficult and unresolved cases can be dealt with if legal aid is not available.
The implementation of the proposals regarding family law should not happen before the Family Justice Review Panel has produced its full report. Cost reduction is achievable through public bodies, such as the Department for Work and Pensions (DWP), getting their decisions right first time and avoiding expensive court and tribunal cases.
The Committee also thinks that the Government should reconsider whether legal aid should be available for certain types of judicial review. There is a degree of consensus amongst all political parties that the cost of legal aid needs to be reduced, but it is imperative that there is a careful assessment of the impact of the proposed changes on those people most dependent on legal aid.
The Government needs to refine its proposals further before introducing a major change in the way the accessibility of the justice system has come to be viewed.

Find similar publications here: