Draft Energy Bill: Pre-Legislative Scrutiny
HC 275-I, First Report of Session 2012-13 - Volume I: Report, Together with Formal Minutes
Author:

House of Commons - Energy and Climate Change Committee

Publisher:

TSO (The Stationery Office)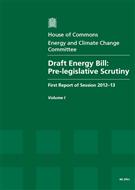 Add to Basket
'Draft Energy Bill: Pre-Legislative Scrutiny (HC 275-I)' examines the Energy Bill which sets out to introduce a new system of long-term contracts, to give power companies a guaranteed price for the low-carbon electricity they produce; this is intended to reduce the risk of investment in projects with high up-front capital costs, such as nuclear reactors and offshore wind farms.
Initial consultation last year led investors to believe that the "Contracts for Difference" (CfD) would be guaranteed by the State - therefore lowering the cost of capital. But the Treasury has apparently intervened to ensure that the contracts are not government guaranteed.
The new model for contracts will spread the liability across various energy companies instead, which raises concerns that the plans are now too complex and possibly not legally enforceable.
The Committee heard that the spending cap set by the Treasury, which limits the green levies that can be passed on to consumers in energy bills, could introduce an "unacceptable" level of risk to companies who are looking to build new wind, solar, wave or tidal power plants, creating uncertainty amongst investors about which projects will receive support. This is already having an impact on investment decisions and could paradoxically push-up energy costs for consumers.
The Committee says that the Government must come up with a stronger contract design before the Bill is expected to be introduced to Parliament in the autumn.

Related titles:
Find similar publications here:

Show all Subjects & Categories