My Family's Changing – Younger Children
For Children Under 12
Author:

Cafcass (Children and Family Court Advisory and Support Service)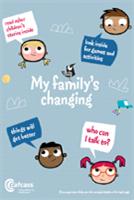 Add to Basket
The 'My Family's Changing' leaflets are designed to offer help and support to children whose parents are divorcing or separating. They include ideas from other children who have been through similar experiences, games, spaces for children to write down and explore their feelings and details of organisations that can offer further help. The leaflets are available in two age ranges: 'My Family's Changing – Older Children', (ISBN 9780117038462) for children over 12 is available below.
Downloadable PDF
This publication is available to view in digital format - click here to download 'My Family's Changing – Younger Children' PDF. Alternatively, click 'Buy Now' below to order a free print copy online.
Please note: Maximum order 50 copies per customer.


Show all Subjects & Categories