Pollution Control
Show me:
Solutions to Environmental Problems Involving Nanotechnology and Enzyme Technology
Author:

Dwevedi, Alka

Publisher:

Academic Press Inc - Elsevier Science Publishing Co Inc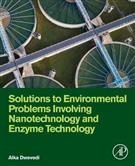 Add to Basket
Nanotechnology and Enzyme Technology Combined to Address Environmental Problems discusses how nanotechnology and enzyme technology work independently and together to help researchers and environmental professionals learn about this revolutionary and cross-disciplinary field. Nanotechnology has provided a range of nanomaterials, some of which are helpful in the protection of the environment and climate. They can be used to improve durability against mechanical stress, help in cleaning, enhance energy efficiency as insulation, save energy consumption during transportation due to catalytic properties, and more. This book highlights this technology as it continues to provide solutions for various environmental problems.
Energy
Industry & Engineering

Show all Subjects & Categories