Physiotherapy
Show me:
Physical Rehabilitation
Author:

O'Sullivan, Susan B. Schmitz, Thomas J.

Publisher:

F.A. Davis Company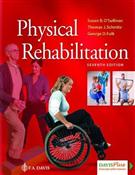 Add to Basket
Rely on this comprehensive, curriculum-spanning text and reference now and throughout your career. The thoroughly updated seventh edition includes everything you need to know about the rehabilitation management of adult patients, from integrating basic surgical, medical, and therapeutic interventions to how to select the most appropriate evaluation procedures, develop rehabilitation goals, and implement a treatment plan. Online you'll find narrated, full-colour video clips of patients in treatment, including the initial examination, interventions, and outcomes for a variety of the conditions commonly seen in rehabilitation settings. Thoroughly updated to reflect the newest evidence and changes in health care. New video and written case study on multiple sclerosis. Incorporates current research in basic and clinical sciences with physical therapy assessments and treatment procedures. Includes "Evidence Summary" tables in most chapters which evaluate current research on specific topics and support evidence-based practice. Enhances critical-thinking skills with open-ended clinical case studies. Covers strategies for fall prevention, virtual reality rehabilitation, body-weight treadmill training, and upper extremity amputations and prosthetics. Integrates the goals, examination procedures, and interventions of the APTA's Guide to Physical Therapist Practice.
Find similar publications here:
Specialist Medicine & Treatment
Medical

Show all Subjects & Categories