Plastic & Reconstructive Surgery
Show me:
Burns
Oxford Specialist Handbooks in Surgery
Publisher:

Oxford University Press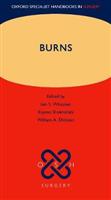 Add to Basket
Burn injuries are recognised as a major health problem worldwide, causing morbidity and mortality in individuals of all ages. The Oxford Specialist Handbook of Burns is a concise, easy-to-navigate reference text that outlines the assessment, management, and rehabilitation of burns patients. With contributions from international experts, this handbook covers all aspects of burn-patient care, from first aid to reconstructive techniques and physiotherapy. This new, pocket-sized title is an invaluable resource for all those who come into contact with burns patients, from accident and emergency doctors to allied health professionals, as well as specialists and trainees in burns units. Filling an important niche in the market for an accessible quick-access guide for those first on the scene, The Oxford Specialist Handbook of Burns is a comprehensive and detailed new resource.
Find similar publications here:

Show all Subjects & Categories