Anatomy
Show me:
Human Errors: A Panorama of Our Glitches, From Pointless Bones to Broken Genes
Author:

Lents, Nathan

Publisher:

Weidenfeld & Nicolson - Orion Publishing Co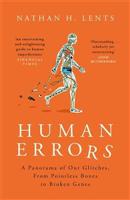 Add to Basket
We like to think of ourselves as highly evolved. But if we are evolution's greatest creation, why are we so badly designed? We have retinas that face backward, we must find vitamins and nutrients in our diets that other animals simply make for themselves and millions of us can't reproduce successfully without help from modern science. And that's just the beginning of the story. Biologist Nathan H. Lents takes us on an entertaining and illuminating tour of our four-billion-year-long evolutionary saga, and shows us how each of our flaws tells us a story about our species' history.
Find similar publications here:

Show all Subjects & Categories