Environmental Engineering & Management
Show me:
Taking Back Our Food Supply: How to Lead the Local Food Revolution to Reclaim a Healthy Future
Author:

Brownlee, Michael

Publisher:

Morgan James Publishing llc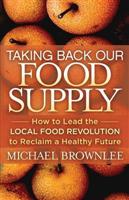 Add to Basket
Taking Back Our Food Supply is a rousing call to reverse the devastating juggernaut of the industrial food system by igniting a grassroots local food revolution! Our food supply has been hijacked by an unholy alliance of multinational corporations in big agriculture, big food, and big pharma. This industrial food system is killing us and rapidly destroying the biosphere. Restoring food sovereignty and food security is now the most important and most urgent cause of our time, calling for nothing less than a grassroots revolution. In Taking Back Our Food Supply, Michael Brownlee shows readers how to master the seven steps of building a resilient regional food shed and illustrates how to ignite the local food revolution in their community to a radically increased level of impact, effectiveness, and scale.
Find similar publications here:
Building and Infrastructure

Show all Subjects & Categories