Department for Transport
Show me:
Spending Review 2010
Cm. 7942
Author:

HM Treasury

Publisher:

TSO (The Stationery Office)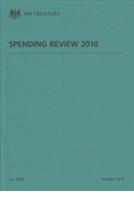 Add to Basket
In 2009-10, public expenditure rose to 48% of gross domestic product (GDP) whilst income fell to 37%, resulting in the largest deficit in Britain's peacetime history.
The 'Spending Review 2010 (Cm 7942)' sets out how the Coalition Government will carry out its deficit reduction plan. Particular focus has been given to reducing welfare costs and wasteful spending.
The Coalition Government will prioritise:
the NHS;

schools;

early years' provision; and

the capital investments designed to support long-term economic growth.
Departmental budgets other than health and overseas aid will be cut by an average of 19% over four years. Key areas of Annually Managed Expenditure (AME) in addition to Departmental Expenditure Limits (DELs) for each government department and for the devolved administrations are covered. The Review sets out departmental spending plans for the four years until 2014-15 and further savings and reforms to welfare, environmental levies and public service pensions.
The Review details Government plans to:
protect high value transport maintenance and investment;

maintain the science budget;

invest in apprenticeships and the low carbon economy; and

allow universities to increase fees from the 2012-13 academic year.
Fundamental reforms will simplify the welfare system and make net savings of £7 billion a year. Social housing will be reformed and social care will receive an additional £2 billion by 2014-15.
Public service reform underpins the Review: decentralisation of power; cutting burdens and regulations on front-line staff; and improving transparency, efficiency and accountability of local services. Local government will have greater freedom but must work within reduced allocations. Public sector pensions will be reformed in line with Lord Hutton's recommendations.
Central government administration costs will be cut by 34% by 2014-15. Government departments will produce business plans later in 2010 detailing reform plans and priorities.
Find similar publications here: