United States Pharmacopeia
Show me:
Food Chemical Codex (FCC) 11th Edition
Author:

United States Pharmacopeia Convention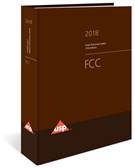 Add to Basket
The FCC is a compendium of internationally recognized standards for determining the purity and quality of food ingredients. It is a valuable resource for authenticating a wide variety of ingredients, including processing aids, preservatives, flavourings, colorants, and nutrients. The FCC is revised and updated through an open collaborative revision process involving industry, government, and the public.
New for the 11th edition:
More than 1,250 monographs including: probiotics and prebiotics, flavours, preservatives, sweeteners, fats and oils, nutrients, colorants, infant formula ingredients and more

18 appendices, providing clear, step-by-step guidance for more than 150 tests and assays including: lead limit test, Food Fraud Mitigation Guidance, guidance on developing and validating non-targeted testing

FCC 11 has over 45 new and updated monographs compared to FCC 10
More information
The subscription includes a main edition and three supplements, which publish at six-month intervals during the subscription period. Each supplement contains significant new and revised standards and information.
Subscriptions run for two years. The current subscription term is from the 1st March 2018 to the 28th February 2019. If you subscribe after the start date you will receive the main edition and its published supplements.