Tuberculosis
Show me:
Guidelines on the Management of Latent Tuberculosis Infection
Author:

World Health Organization (WHO)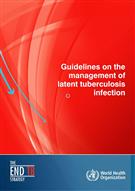 Add to Basket
Latent tuberculosis infection (LTBI) is defined as a state of persistent immune response to stimulation by Mycobacterium tuberculosis antigens without evidence of clinically manifested active TB. A direct measurement tool for M. tuberculosis infection in humans is currently unavailable. The vast majority of infected persons have no signs or symptoms of TB but are at risk for developing active tuberculosis (TB) disease. This can be averted by preventive treatment.
These Guidelines on the management of latent tuberculosis infection were developed in accordance to the requirements and recommended process of the WHO Guideline Review Committee, and provide public health approach guidance on evidence-based practices for testing, treating and managing LTBI in infected individuals with the highest likelihood of progression to active disease. The guidelines are also intended to provide the basis and rationale for the development of national guidelines. The guidelines are primarily targeted at high-income or upper middle-income countries with an estimated TB incidence rate of less than 100 per 100 000 population. Resource-limited and other middle-income countries that do not belong to the above category should implement the existing WHO guidelines on people living with HIV and child contacts below 5 years of age.