CSR & Governance
Show me:
Managing Sustainable Development of Organizations - Part 1: Guide
BS 8900-1:2013
Author:

BSI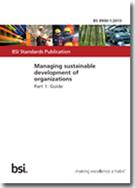 Add to Basket
There have been growing calls in the UK and elsewhere for clear and practical guidance to support the cost-efficient and effective integration of sustainable development for commercial and non-commercial organizations.
Given the breadth and complexity this vision represents, and the evolving understanding of what it really means, there has been a considerable challenge to embed a systematic approach to sustainable development into an organization's practices.
BS 8900-1:2013 Managing sustainable development of organizations - Part 1: Guide provides guidance on managing sustainable development and a framework that assists organizations to enhance performance and effectiveness.
The approach throughout is to provide a framework for embedding sustainable development management in everyday decision making and is necessarily challenging, provoking and continually evolving.
It is recognized that building confidence in processes and sustainable outcomes is an important part of effective and continuing stakeholder engagement.
BS 8900-1:2013 offers a maturity matrix as a way of assessing progress, clarifying next steps and combining the principles underpinning the management of sustainable development with practical implementation.
The guidance can be applied by organizations of any size, sector and type.
Find similar publications here: